Subscribe and Save
Welcome to the exclusive club, where saving money and living sustainably is the name of the game! By joining our subscription program, you'll have the key to unlocking exclusive discounts, free shipping, and first dibs on our newest products.
And the best part? You'll never have to worry about running out of your favourite pads again! So say goodbye to those awkward, emergency runs to the store and hello to the convenience of automatic deliveries.
Plus, you get to be the boss of your subscription! Customise it, skip a delivery, pause it, or cancel it if it's not the right fit anymore. You're in control, and that's a beautiful thing!
How does it work?
Step 1: Select Products

Select your desired product and quantity, then select the "subscribe" option like it's your favourite meme!

Step 2: Choose Frequency

Choose the rhythm that works best for you! We recommend going with the flow of a quarterly delivery, but it's your jam - pick the delivery frequency that works for you.

Step 3: Checkout

Just click that "checkout" button, sit back, and let the savings roll in without breaking a sweat.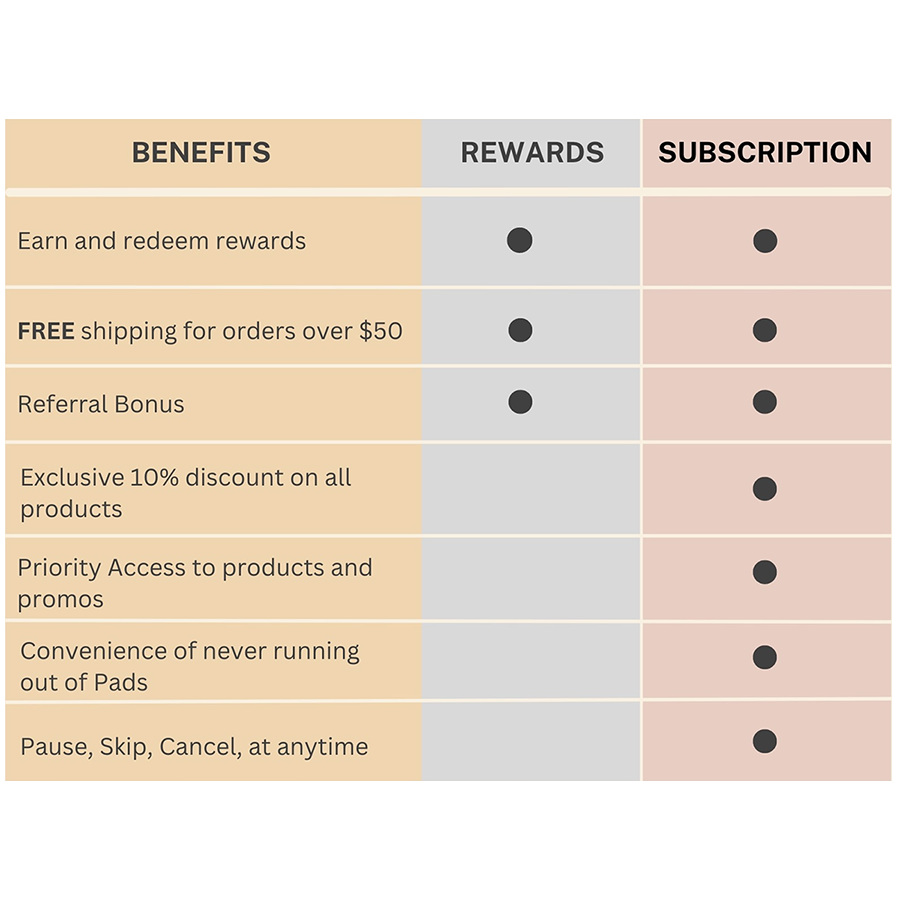 It's great to be a VIP
By signing up for our subscription, you can enjoy a host of benefits, including exclusive discounts, free shipping, and priority access to our newest products. In addition, you will never have to worry about running out of your favorite products, as we will automatically deliver them to your doorstep on a regular basis.
Our subscription program is designed to save you time, money, and hassle while ensuring that you always have the best products available.
Choose your option and start saving
Pad Talk: Subscription info explained without the fluff
To keep with your natural flow (as much as possible with that unpredictable little beast), our deliveries arrive every month and the delivery cycle is fully customisable...because let's face it, our cycle doesn't dance to the rhythm of a calendar month, business days or postie deliveries.
When you subscribe, you will automatically receive 10% off your purchase (for being an absolute babe of course!). 
Because we celebrate women in all their beautiful differences, we've decided that you can customise your own BB subscription. You don't want us telling you what you need, so while we've suggested a few packs, you can customise your own combination to include the products you need. So you can go with the flow much more freely.
You can even choose the frequency of your delivery to every one, three or even six months to save on postage and reduce waste. We recommend choosing every 3 months as the best green eco friendly option that will save money and reduce waste by shipping less frequently.